St. Peter's, the Parish Church of Edensor & Pilsley
Located in the heart of the Peak District, and within the estate of Chatsworth this 19th Century church boasts more than just a stunning location. Welcome to its web site!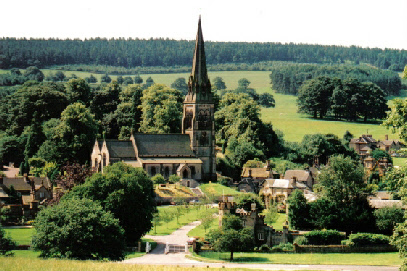 Welcome to our Church website.
St. Peter's Church is a vibrant and inclusive congregation celebrating the love of God in Christ Jesus.
The church building is set amidst wonderful countryside on the Chatsworth estate, and our desire is to worship God in the beauty of Holiness.
We serve the local community and also the wider community, including many welcome visitors to Chatsworth. The congregation includes people from the Chatsworth estate and also many from the surrounding area including Sheffield, and there are people from all walks of life, both old and young.
Our worship is accessible Book of Common Prayer with good congregation participation and singing. We also honour good preaching and teaching as we seek to relate the Christian faith to everyday life and the complex planet of which we are all a part.
We seek above all to make everyone feel welcome and included, so that together we may all be drawn by the attractiveness of God.
Forthcoming Services and Events
Opening Times
9 to 5pm daily
(or dusk, if earlier)

Do you buy stuff on-line? Then help raise funds for "Saint Peter's Church - Chatsworth Park" by registering with easyfundraising.org.uk then buy via them to 100's of on-line stores (inc. Amazon and eBay) . As at 31st December 2012 we have raised £ 70.00, help to make that much more.
Searching on-line? Then search, after registering, via easysearch.org.uk and raise 0.5p for every search made.

Sat Nav
Location
DE45 1PH

You can also follow us on Facebook @StPetersEdensor
Sunday 28th May at 10-45am
Holy Communion
United Benefice Service with Beeley
Celebrant - Bishop Libby Lane
Join us for coffee, tea and biscuits
Sat. 17th June 11am - 4pm Edensor Day
Village Fete and Open Gardens opened by the Earl of Burlington and his family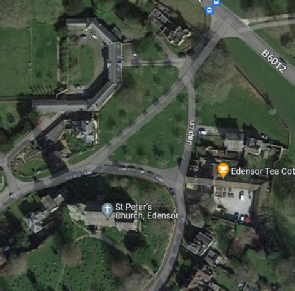 Sunday 14th May at 10-45am we welcome back our former vicar, the Ven. David Garnett to lead our worship in a joint service with Beeley parish at St. Peter's Edensor.